Welcome to The New Buffalo Soldiers' Web Page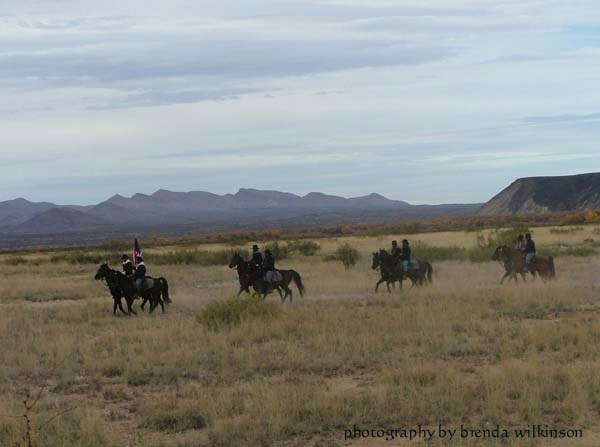 Company H, Tenth Cavalry
Shadow Hills, California
Thank you for visiting The New Buffalo Soldiers' Web Site. The group was organized to be a historical educational organization in July 1992. Members of "THE NEW BUFFALO SOLDIERS"strive to educate and enlighten people of all ages, about the contributions of black men on the American western frontier.

These men, the Buffalo Soldiers, were thought to have earned the nickname as a sign of respect from the Plains Indians. They served this country gallantly and honorably, yet virtually invisible to all but their white officers. FromKansas to the Indian territories and Arizona, and from the Canadian border to the Mexican border these heroes of old surveyed, mapped, built forts and roads, guarded rail, stage, telegraph lines. They protected an often unappreciative populace from marauding bandsof hostiles, thieves, bandits and outlaws from both below and above the border.
The primary historical focus of the organizationis to recreate the lives of the men of Company H, Tenth Regimentof United States Cavalry between 1867 and 1871. The organizationis dedicated to the accurate and authentic recreation of the livesand exploits of Co. H, through the use of mounted and dismounted maneuvers, camp life demonstrations, exhibits of military accouterments and historical presentations.
"THE NEW BUFFALO SOLDIERS" is a diverse group of men who share a common interest in the life and times of the many who came before yet received little or no recognition of their heroic service to their county. Today's Buffalo Soldiers represent a wide variety of occupations: attorney, doctor, fireman, computer technician, ferrier, college counselor, police officer, student and surgical technician.
The Company's activities reflect the same level of diversity. Members participated in the opening ceremony of the 2002 Winter Olympics in Salt Lake City, Utah as well as major parades throughout southern California including the City of Pasadena's Tournament of Roses Parade and the Hollywood Christmas Parade. The group has lectured and made presentations at schools, colleges,l ibraries, and museums for local, state, and federal agencies and appeared at local rodeos. Additionally, the group served as official Color Guard for the Orange County Black Chamber of Commerce, the U. S. Army at Fort Irwin and the Ronald Reagan Presidential Library. We have participated in historical activities at sites including Fort Laramie, Fort Craig, New Mexico and the Springfield Armory. in addition to the State historic site at Allensworth. We have also been a part of the American West Heritage Center's Festival of the American West in Wellsville, Utah. Some members have worked as historical reenactors in the film industry.


"Keeping History Alive"
The Men of Company H, 10th U.S. Cavalry
© 2000-2006 by Dr John Productions
The New Buffalo Soldiers, Shadow Hills, CA.
All rights reserved.