The Black Officers

Charles Young
Images from the Charles Young Collection, Ohio Historical Society
Charles Young was the third and last black graduate of West Point in the nineteenth century. Born in Helena, Kentucky, he moved North right after the Civil War with his parents. He proved to be a very capable student and began employment as a teacher in Ohio, upon completing high school. Young initially considered applying for admission to a Jesuit college. However, when an opportunity arose for him to take the competitive examination for West Point, he did and performed well on this exam. In 1884 he joined the cadet corps at the United States Military Academy at West Point, New York.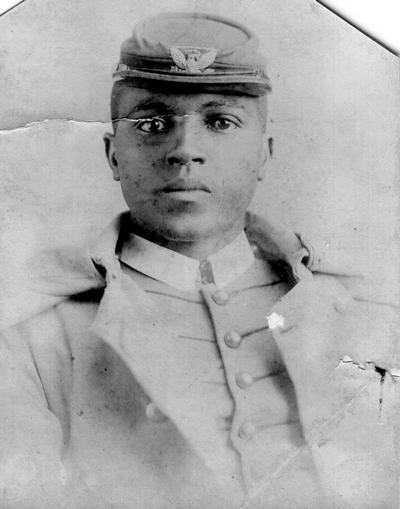 One of his fellow West Pointers remembered Young in his cadet days as, "... a rather awkward, overgrown lad, larged-boned and robust in physique, and of a nervous impulsive temperament." Life at the Academy was difficult because the graduation and the discharge of the other black cadets left Young the only African American in the school. Receiving the same silent treatment as Flipper, he spoke to the German-born boot blacks at the Academy in their native language just to have someone to talk with. He had good working knowledge of Latin, Greek, French, Spanish, and German" paid practical dividends. During these first years of isolation Young had few opportunities to break through the racial wall which had been built around him. Nevertheless, he persevered. Gradually, "his class began to acknowledge and respect his finer traits of character; while a spirit of fair play induced many cadets".

Not long after being commissioned in 1889 as the third and last West Point graduate of the nineteenth century, Young followed a similar path as Lieutenant John Hanks Alexander. Joining the Ninth Cavalry, he first was sent to Fort Robinson, Nebraska. From 1889 through 1890 he remained at that garrison until being transferred to Fort Duchesne, Utah, where he remained through 1894. Part of this second tour of duty overlapped with that of Alexander. This rare opportunity may have provided some moments for the two men to share a comradeship they previously had been denied.

He went on to serve faithfully during the Spanish-American War in Cuba and the Punitive Expedition in to Mexico.


He held the ranks of 2nd Lieutenant, 1st Lieutenant, Captain, Major, and Lieutenant Colonel. On June 22, 1917, Young was retired and then promoted to full Colonel. On November 6, 1918, he was recalled to active duty with the Ohio National Guard. During his military career, Young had postings in Nebraska, Utah, Virginia, Pennsylvania, South Carolina, California, Wyoming, Texas and Illinois; and saw service in Haiti, the Philippines, Liberia and Mexico. .




SEE ALSO


Service Record from the Cleveland Advocate

Arlington Cemetary

Fort Huachuca

Charles Young Triangle[OFFLINE]

Sequoia National Park

American Legacy [OFFLINE]





© 2000-2001 by Dr John Productions
The New Buffalo Soldiers, Shadow Hills, CA.
All rights reserved.