The Troopers
Trooper John F. Casey
---

Personal History:
Birth: ? 1851
State- Missouri
City - Unknown
County - Caldwell
Death: 11 Aug. 1924
Age@Death - 73
Burial - Unknown
Residence: 630 So. 6th St., Saint Joseph, Mo.
318 So. 4th St., Saint Joseph, Mo.
Nat'l Military Home, Leavenworth, Kansas

Appearance:
Complexion - Light
Eyes - Black
Hair - Black
Height- 5' 10 l/2&quot
Occupation: Soldier, Laborer, Barber
Father: Unknown (see story of mother)
Mother: Ellen, a slave (owned by David Inyard) previously married to a man named Brown who was owned by a family named Brown. While she was married to Brown, John Casey was born and his father was white. His sister Dilce was born after her mother had been sold to David Inyard and that apparently was her father, so Dilce was a half sister to John Casey.

Wife(s):
First Wife - Pabla Annalla or Ansas or Anaya or Nalla, married ?1877; Divorced April, 1888?, Died? She was also married to Robert Fair/Ferrele/Fay/Faye;

Second Wife - Eliza Turner, married 20 June 1888, died 28 April 1905. She was also married to Henry Evans from whom she had 3 children.

Third Wife- Emma Louise Thomas - Born 19 April 1861 in Pettis Co., Mo. Died 2 Nov. 1933. She was also married to Albert William Sanford and Frederick Weidt. Emma had nine children by her first husband.
Emma L Thomas' parents were Benjamin Franklin Thomas and Anna (Zumalt) Thomas. When Anna died, Benjamin married his wife's sister Barbara Louise Zumalt.
Note: John Casey claims he was once married to Belle Starr, but there is no record to confirm this marriage.
Children: Two children by Pablo:
Mary, 9-years-old - Killed accidently by her step-brother in Aug. 1888
Frank, born 8 Dec. 1876 who married Florentina Castro, Born Oct. 1876, married 4 Jan. 1897 @ Fort Davis, Texas.

Service Record:
Enlisted: 28 Sept. 1872
Discharged: 30 May 1877, Fort Davis, Texas
Service: 10th Reg't H Troop U.S. Cavalry

Enlisted: 6 March 1878
Discharged: 5 March 1883
Service: 10th Reg't H Troop U.S. Cavalry

Enlisted: 6 March 1883
Discharged: 5 March 1888
Service: 10th Reg't H Troop U.S. Cavalry



Medical Record:
Identifying Marks: Unknown
A special thank you to Harold Sayre for allowing the use of this material.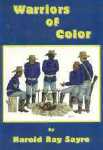 Warriors of Color
by
Harold Ray Sayre
© 1995 Harold Ray Sayre

Harold Ray Sayre
HCR 74 Box 57
Fort Davis, Texas 79734

Dr John Productions
The New Buffalo Soldiers, Shadow Hills, CA.
All rights reserved.