The Troopers
James W. Gibson
---
Personal History:
Birth: ? 1846
State - Missouri
City - St. Charles
County - St. Charles
Death: Unknown
Age@Death - Unknown
Burial - Unknown
Residence: Unknown

Appearance:
Complexion - Brown
Eyes - Black
Hair- Black
Height - 5' 5 1/4&quot
Occupation: Laborer, Soldier
Father: Unknown
Mother: Unknown
Wife: Unknown
Children: Unknown

Service Record:
Enlisted: 17 July 1867, Indianapolis, Indiana
Discharged: Unknown
Service: 10th Reg't. H Troop U.S. Cavalry

Medical Record:
Identifying Marks: Unknown

19 March 1877 - Tertian Intermittent Fever, Ft. Davis. Texas
A special thank you to Harold Sayre for allowing the use of this material.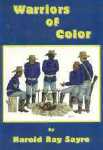 Warriors of Color
by
Harold Ray Sayre
© 1995 Harold Ray Sayre

Harold Ray Sayre
HCR 74 Box 57
Fort Davis, Texas 79734

Dr John Productions
The New Buffalo Soldiers, Shadow Hills, CA.
All rights reserved.