The Post War Frontier Army
Rolling the Cloak --Step 5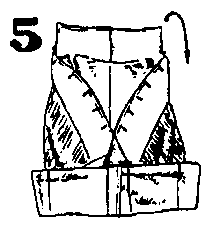 "... the lower extremity of the cloak is then turned up about 7 inches, and it is rolled as tightly as possible, commencing at the collar and pressing the knee upon it as it is rolled, to hold it. The part of the cloak which is rolled is then introduced into the sort of pocket formed by the part which is turned back."
Diagrams from the Civil War Cavalry Review
Courtesy Bob Erickson of Hamilton, Montana
Text from Cooke's Cavalry Tactics
Dr John Productions
The New Buffalo Soldiers, Shadow Hills, CA.