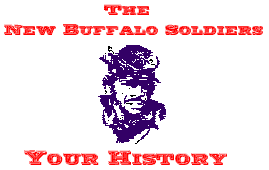 Number 2: 1867-1870: The Years on the Plains
As we learned in Volume No. 1, Co. A was sent West in February 1867, with Cos. B and C following over the next several months. They were dispatched to Fort Gibson, Indian Territory. In August, Grierson was transferred to Fort Riley, Kansas, where the remaining 4 companies were formed. From Fort Riley, the regimental headquarters until April, 1868, the 10th spread out over Indian Country, (Kansas, Oklahoma and parts of Texas). They were sent to Fts Wallace, Larned, Hays, Gibson and Arbuckle. The Tenth quickly got into action and began to take casualties. In August of 1867, Co. F saw action in which a sergeant was shot through the head when as he and 34 other troopers were attacked by 50-70 Cheyenne. Later in the month at Beaver Creek they lost another trooper.
In September, another group of troopers was attacked while guarding a railroad camp. In May of 1868, the regimental headquarters was moved to Fort Gibson. 1868, saw some important actions. These included 2 in October, Early in the month Colonel Carpenter and H Troop covered 100 miles in a day to ride to the rescue of Colonel Forsyth and his 50 scouts that were trapped for about a week on a small island on the Aricharee fork of the Republican River, by several thousand Indians under Chief Roman Nose. A short time later, Carpenter with Cos. H and I came under attack while escorting Carr of the 5th Cav.
The actions at Beecher Island and Beaver Creek resulted in a promotion and Congressional Medal of Honor for Carpenter and praise from Major-General Sheridan in a General Order on 10/27/68 for the bravery and gallantry of the troop. During the Winter Campaign the 10th played key roles including guarding Indians and securing escape routes for the Cheyenne, which were attacked on the Washita by Custer. Cos. B, F, G and K worked out of Fort Lyon with a troop of the 7th Cav under Penrose. With Wild Bill Hickock as scout they abruptly ran into a severe blizzard a few days out. In the first week they lost 39 horses and being equipped with 45 days ration starvation was a serious problem. Finally they were "rescued" by Carr and the 5th Cav.
The remainder of the 1869 was spent babysitting Kiowas, Comanche, Southern Cheyenne and Arapahoe, building bridges, constructing Fort Sill and working out of Camp Washita, Camp Supply and Fort Sill.

References
1. The Buffalo Soldiers: A Narrative of the Negro Cavalry in the West; William Leckie. University of Oklahoma Press 1967.
2. Indian Fight and Fighters; Cyrus Townsend Brady, University of Nebraska Press 1971.[Beaver Creek and Beecher Island].





© 2000-2001 by Dr John Productions
The New Buffalo Soldiers
Shadow Hills, CA.
All rights reserved.