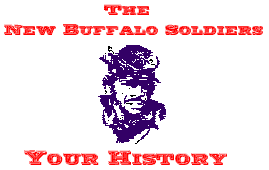 Number 6: Opinions
African American Troops in the West--Opinions
by Trooper Lee Rutledge
---
Contemporary opinion is one historical measure of a military unit. What did soldier and civilian eyewitnesses think of black Americans who fought in the West? Many people who saw African American troops in the Trans-Mississippi West between 1867 to 1916, left eye-opening accounts of how they perceived the blue and olive drab-glad men. It is no surprise that some Northern racial attitudes were not too far removed from those south of the Mason-Dixon Line. Included are six sample observations.


1] The earliest opinion found so far was recorded by Captain Albert Barnitz, an officer from Ohio in the 7th Cavalry. During the 1867 Kansas campaign, Barnitz was stationed near Fort Wallace, Kansas. He wrote to his wife on September 3, 1867:


"By the way, we visited Captain Armes' [Capt. George Armes, Company F, 10th Cavalry] Battlefield up there toward the Republican (River), and found one dead horse and the remains of one dead negro! It appears that [Armes] didn't find the Indians after all, so much as they found him! .... he managed to get out of the scrape after a fashion and the whole force [which included Kansas volunteer cavalry] drifted back to Fort Hayes without any procrastination .... The Kansas troops are a set to contemplate with curiosity--and the 'Moaks' are in the same category!" (Life in Custer's Cavalry, ed. by Robert Utley, Yale University Press, 1977, p 99)

2] A former sergeant in the 6th U. S. Cavalry wrote about black troops that he saw in Texas:


"About the end of June (1869) four companies of negro troops (38th Infantry) arrived from Kansas and took post near Jacksonboro, thereby materially lessening the duties of the cavalry .... I had never seen anything much of the colored troops during the war, most of them being in the Western army, but it seemed to me they were well adapted to the life and duties of the soldier. Accustomed to hard knocks all their lives, a little brutality on the part of an officer, more or less, did not seem to affect them either physically or morally, and their volatile, devil-may-care characters fitted them for the ups and downs of the army .... Many of them were exceedingly clean and neat as soldiers and were often selected as orderly for the Officer of the Day (competition) .... The officers of the few colored troops that came within my notice were, as a rule, a very superior set of men ...." (Five Years a Cavalryman, by H. H. McConnell originally published in 1889, Jacksonboro, Texas, pp 212-213)

3] In the early 1870's an Eastern-born officer's wife accompanied her husband to Camp Supply, Indian Territiory (which later became Fort Sill, Oklahoma). Writing a friend in June 1872, she made comments about the 10th Cavalry troopers that reveal as much about her as it does about the men she saw:


"(Guard duty) would be all right if there were not a daily mingling of white and colored troops which often brings a colored sergeant over white corporals and privates .... The officers say that the negroes make good soldiers and fight like fiends. They certainly manage to stick to there horses like monkeys. The Indians call them 'buffalo soldiers', because their wooly heads are so much like the matted cushion that is between the horns of the buffalo." (Army Letters From an Officer's Wife, 1871-1888, by Frances M. A. Roe, originally published in 1909, p 65.)

4] Novelist/Army Captain Charles King, a native of Wisconsin and a member of the 5th Cavalry gave his opinion of black soldiers in his1880 book, Campaigning with Crook:


"In four regiments only is the exclusiveness as to race permitted by law. Only darkies can join their ranks ... 'The representative Paddy' (Irishman), as he calls himself, Captain Nick Nolan, of the Tenth Cavalry, has an Ethiopian lieutenant .... and sixty of the very best darkies that ever stole chickens." (Campaigning With Crook, 1967 reprint of 1890 edition, University of Oklahoma Press, p 7.)

5] Frederic Remington, the famous Western artist who rode stirrup to stirrup with the 10th Cavalry, had this to say in an 1889 magazine article:


"The Negro troopers sat about, their black skins shining with perspiration ... They occupied such time in joking and in merriment as seemed fitted for growling ... They may be tired and they may be hungry, but they do not see fit to augment their misery by finding fault with everybody and everything. In this particular they are charming men with whom to serve. Officers have often confessed to me that when they are on long and monotonous field service and are troubled with a depression of spirits, they have only to go about the campfires of the Negro soldier in order to be amused and cheered by the clever absurdities of the men. Personal relations can be much closer between white officers and colored soldiers than in white regiments without breaking the barriers which are necessary to Army discipline." ("A Scout With the Buffalo Soldiers", Century Magazine, April 1889.)

6] George S. Patton Jr. was lieutenant with the Pershing expedition that chased Pancho Villa in 1916. He wrote his wife from Mexico on January 10, 1917 and mentioned an inspection he helped to conduct:


"The 10th Cavalry had the best equipments and although put up the best show. You never saw anything like their stony gaze when at attention." (The Patton Papers, 1885-1940, Vol I, Martin Blumenson, ed 1972, p. 403.)

The above remarks are typical. Those persons who actually accompanied African American fighting men saw them clearly for what they were--first class soldiers. Histories of the black men in blue were changed after a person had seen them close up. White officers and enlisted men who marched with, fought beside or were rescued by Buffalo Soldiers usually had a high opinion of them. Virtually all persons who held negative opinions about black troops in the West had spent little or no time with them. They had obtained their prejudices in other ways.


© 2000-2001 by Dr John Productions
The New Buffalo Soldiers
Shadow Hills, CA.
All rights reserved.